Ultra Waterpure Drinking water purifier.
Author: Jacquie Harris Date Posted:29 March 2015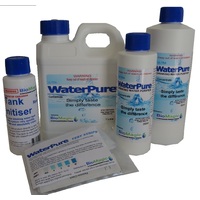 Ultra WaterPure drinking water purifier is the safest simplest answer to making drinking water safe in your Camper, Caravan, Motorhome, or any RV .Just a small dose and wait for the required time before use.
Ultra WaterPure is used to purify drinking water and remove the worry of biological or microbial contamination in water tanks in caravans, motor-homes,campers, boats and any similar application. WaterPure will remove local taste and smell and does not leave any odour or taste or chemical residue in the water. It does not combine with organic material in the water to form toxic compounds, as can occur with chlorine, and releases oxygen as it breaks down to further enhance the water quality and soften it.
It is based on Hydrogen peroxide specially treated with silver ions.
You will never need to buy bottled water, simply taste the difference. Just a small dose and wait the correct amount of time then the water is ready to use or store. Simply taste the difference with any water supply.
New tank, old second hand tank or just a well used tank WaterPure will clean & sanitise then help keep it in the best possible condition with safe clean drinking water that is also able to be left in the tank or container for up to a year between uses. This product can be used alone or as a great companion product to filtered water. You can treat any water according to its quality & type of supply.
Save $$$$$ and your health at home or when traveling.
The active ingredients in the WaterPure formulation are included in the chemicals recommended for use in the treatment of drinking water published in the Australian Drinking Water guidlines.
It is available in several sizes:
250ml ( treats up to 1000 litres of water or 2000 L if its filtered through carbon first)
500ml (treats up to 2000 litres of water or 4000 L if its filtered through carbon first )
1 litre (treats up to 4000 litres of water or 8000 L if its filtered through carbon first)
Note: this product has many other uses as well
It can be used for human and animal disinfection, washing fruit & vegetables and disinfecting food surfaces.
All the information comes with the product.